Photos and video report about the national competition.
Yettel's digital education program ProSuli hosted its robotics competition attracting teams from all over the country for the second time. With 20 teams and 60 students, the competition has grown to become one of the biggest robot programming contests in Hungary. Students competed in teams of three in two age groups (junior and senior), testing the skills of the robots built and programmed by them in three-minute sessions. In the competition, teams competed in the so-called "robot sumo" category where the robots had to fight in a circle with a diameter of 1 metre, with the winner successfully pushing its opponent outside the circle. The competition was supervised by referees. First, all teams in both categories competed against each other, then the robots and the students who programmed them competed in a straight knockout (single elimination) round.
The junior category of the competition held at the Yettel House in Törökbálint was won by the team of Nádasdy Kálmán Primary and Art School of Budafok-Tétény, while the senior category was won by the team of Gróf Széchenyi István Catholic Secondary School of Jászapáti who participated in a robotics competition for the first time. The latter team will travel to Nagyvárad (Oradea, Romania) in mid-April to take part in the 11th International Robotics Championship.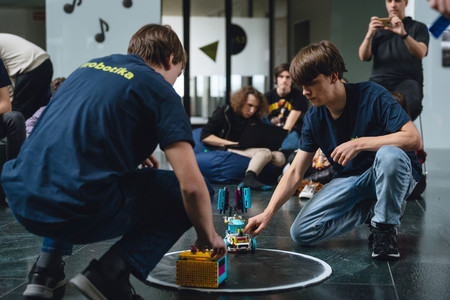 The organisers believe that robotics helps children acquire a structured way of thinking that would benefit all students even in the classroom. Preparing for competitions provides them with a range of interrelated skills and abilities that can be an asset in their everyday lives as adults, and has a long-term value for their future studies and careers.
"This year, the ProSuli robotics competition has become one of the biggest robotics competitions in Hungary. In an increasingly digital world, it's a challenge to capture young people's attention. Robotics is a great way for students to learn something new while gaining inspiration and enjoying work at the same time. This is why we are delighted to see that a growing number of schools join the competition and host more and more well-prepared teams every year", said Balázs Koren, Head of ProSuli program.
Video report of the ProSuli robotics competition can be found at the link below: https://www.youtube.com/watch?v=N8xXVSY6Z6c&t=8s
Photo gallery of the competition: https://prosuli.hu/prosuli-robotikaverseny-2023-kepek/