This summer (1 June to 31 August 2023), data traffic increased by more than 54% nationwide on Yettel Hungary's network compared to the summer of last year. This is a significant increase, as in previous years the annual increase was between 18 and 35%. Interestingly, both the regions of Lake Balaton and Lake Velencei lagged behind the national average of 54% this year, with an increase of only 35% compared to last year. One reason for this may be the increasingly broad use of mobile-based Yettel home internet services, typically in large cities. At Lake Balaton, the busiest week of the summer was again the week of 20 August. 5G technology already served 10.5% of total summer data traffic in this area.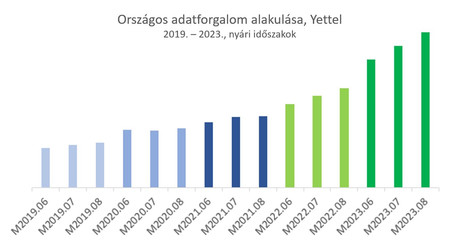 The summer roaming traffic generated Yettel subscribers (i.e. roaming abroad by customers with a domestic subscription) is strongly influenced by the traffic of subscribers with a domestic subscription commuting within the EU. As a result, the roaming top list is still dominated by Germany, Austria, Italy, Romania and France, but looking at the summer period, Croatia has evolved to become the third best performer, with roaming data traffic from Yettel subscribers up by nearly 100% this summer, almost the double of last summer's figure. For Croatia, it is clear that holidaymakers first arrive in June, the first month of summer, but the bulk of the annual traffic is generated in July and August: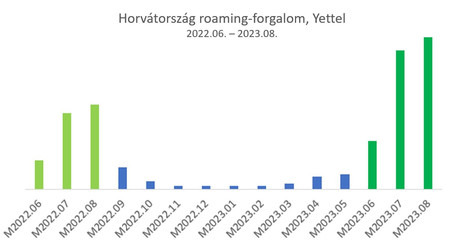 Last summer, domestic SMS traffic hit a multi-year record on Yettel's network. This year, the number of text messages has fallen below the record summer of 2022, but it was still 30% higher than in 2021. This has put this summer's domestic SMS traffic to the second place in the last 5 years, with over 95 million text messages sent in August alone.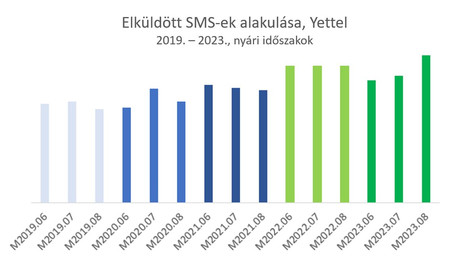 This summer saw a slight increase in the total number of voice minutes compared to last year, but Yettel customers achieved this higher number of minutes with fewer calls than before, meaning that the average length of calls continued to increase this year. This is because most postpaid tariffs already offer unlimited airtime.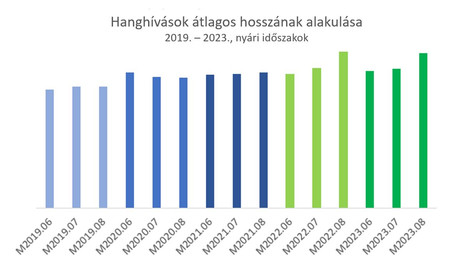 In order for Yettel to be able to serve more and more customers with 5G speeds on its growing network, it now has a special offer providing 5G-enabled handsets with Yettel Prime Plus+ tariff and a 2-year contract until 27 September. Under the offer, the Honor 90 Lite 5G with a 100 MP main camera and 256 GB of internal storage can be purchased for HUF 0; while the Xiaomi Redmi Note 12 Pro 5G with an FHD+ AMOLED display and 67W fast-charging is available with a front-end payment of HUF 0.