The SZEenergy Team, the oldest student team of Széchenyi István University that designs and develops electric racing cars, will take part in the Shell Eco Marathon in Nogaro, France, between 19 and 25 May. The team has been participating in the nearly 100-year-old competition every year since 2008 and has achieved great success over the years. This year, more than 6,000 students from over 20  countries will join the race. The team from Győr will be competing against the regions of Europe and Africa.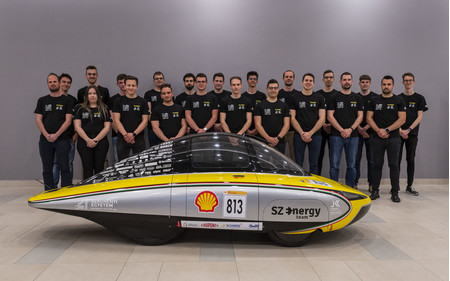 The team is no stranger to world competition. Last year, it won first place in the 'Energy Efficiency' category in the Netherlands with a world-record result, and second place in the 'Autonomous' category in France. This year, they are aiming to maintain their position.
They entered the 'Energy Efficiency' and 'Autonomous' categories of the Nogaro competition. In the former category, the focus is on energy efficiency rather than speed. Participants will have to cover the longest distance possible with their car using a given amount of energy. In the latter category, they have to demonstrate their vehicle's self-driving capabilities: driving, navigation, obstacle avoidance and parking. Self-driving is made as perfect as possible based on the team's current know-how using sensors and onboard computing units, as well as situational awareness from the mobile network. Yettel has been providing the team with a reliable internet connection for years which is essential for the precise positioning of the vehicle both during testing in Hungary and at international competitions. Mobile technology is a critical part of the future of transport, which is why it is important for the mobile operator to support research and development in the automotive industry.
The 25-strong team is made up of four groups – mechanical engineering, electronics, autonomous vehicles, and marketing and management – working on different phases of the car. The current race car is being developed to minimise drag and maximise energy efficiency. The race in France will also serve as a preparation for the World Championships in India this autumn for which the Nogaro event will be a regional qualifier.
"We have participated in the Shell Eco Marathon every year since 2008. We developed our new vehicle in 2019 and it's been so successful that we haven't changed the bodywork since then, while all other elements are constantly being tested, updated and replaced. Last year's race exceeded all our expectations with a speed of 284 km/kWh, which makes this year's competition particularly challenging. We are working hard to maintain our position and win first place in both the 'Energy Efficiency' and 'Autonomous' categories this time," said Team Leader Dávid Krecz.
You can follow the team's results in France on the following pages:
https://results.sem-app.com/app/sem_2023_eu/UC/BE
https://www.facebook.com/szenergyteamhungary
https://www.instagram.com/szenergyteam/
SZEnergy Team's best results so far at the Shell Eco Marathon
2008 – Nogaro, France, Urban Concept Solar category: 1st place
2009 – Lausitz, Germany, Urban Concept Solar category: 1st place
2010 – Eurospeedway Lausitz, Germany, Urban Concept Solar category: 1st place        
2011 – Eurospeedway Lausitz, Germany, Urban Concept Solar category: Team Spirit special prize
2012 – Rotterdam, Netherlands, Urban Concept Solar category: 2nd place      
2013 – Rotterdam, Netherlands, Battery Electric category: 7th place  
2014 – Rotterdam, Netherlands, Battery Electric category: 4th place
2015 – Rotterdam, Netherlands, Battery Electric category: 3rd place  
2016 – London, UK, Battery Electric category: 3rd place              
2017 – London, UK, Battery Electric category: 4th place              
2018 – London, UK, Battery Electric category: 6th place              
2019 – London, UK, Battery Electric category: 6th place