This year, a total of 68 video and 6 photo entries were received for the competition in memory of Honorka Hégető, a former RTL editor-reporter who died in a car accident in 2003. The 2022 call has placed a particular emphasis on works that show the different faces of war, the human response to it, and the freedom that was just natural for most people until recently. The jury selected seven entries – and Yettel, which has supported the Hégető Honorka Award program since its inception, awarded a special prize to one entry. The selected works dealt with the uncertainties faced by women about to give birth, the trauma of children with alcoholic parents, and the accounts of people who have experienced the situation in Afghanistan first-hand.
"Until recently, our lives were dominated by the coronavirus and its effects, and today we are under pressure because of the war in our neighbourhood. In many cases, representatives of the Hungarian media work in dangerous conditions to report to the public. All applicants have done a lot to ensure that their reports on important social issues reach as many people as possible. The Hégető Honorka Award recognises the subject matter and the quality of these reports," said Róbert Kotroczó, RTL News Director and Chairman of the Board of Trustees of the Hégető Honorka Foundation.
This year's winners of the Hégető Honorka Award:
Partizan, whose journalist, Danijar Bíró, produced a series of portraits titled "Faces of War" presenting the Russian-Ukrainian war through personal stories applied for the award for the first time this year.
In her film "A Year Without Gratitude Money: the Situation of Women Giving Birth in Hungary Has Never Been So Uncertain", Júlia Halász, a former journalist for 444, explores the ordeal of women giving birth in state care through the experiences of three young mothers unhappy about the vulnerability caused by the government decision abolishing their free choice of doctor. The report shows that childbirth has become primarily a health and even medical issue in our country, while its spiritual implications are not given enough attention.
In their entry titled "Children of Alcoholic Parents", Fruzsina Molnár and Judit Moskovics (RTL – Házon kívül) show what it is like to grow up in an alcoholic family. In the interview, named and anonymous speakers give candid testimonies about the suffering of growing up with drinking parents and where help can come from. The second part of the short film shows what an integral part alcohol is of everyday life in Hungary.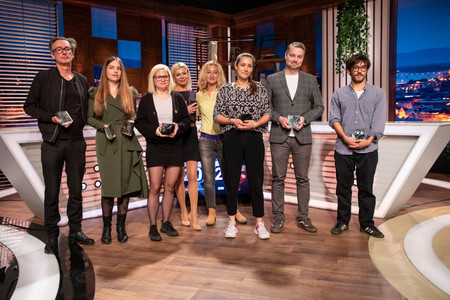 Deutsche Welle applied and won for the first time this year. Olivér Márk Tóth's film titled "Gypsies and Hungarians Suffer from Cold in the Same Way" tells the story of Teca Orgován, a campsite owner in Tiszabecs, who took in gypsies fleeing from Ukraine. Teca and her family work all day to help refugees, and she says they can stay with them as long as they have the strength to support them.
HVG journalist Nikolett Csányi's film titled "The Whole Agricultural Ministry Marched to Mélykút to Cool the Protesters" shows the protest of waterfowl producers who have been left without income due to the non-payment of two thirds of their state subsidies.
RTL Fókusz journalist Annamária Garay's film titled "The Heartbreaking Stories of Four People Who Experienced Afghanistan First-hand" is a memoir of four people about Afghanistan. After the US military withdrew from the country a year ago, extremists emerged and have since led the country into even greater chaos and poverty, while once again radically restricting women's rights. The film also features a former Hungarian peacekeeper, and a brother and sister who lived in Afghanistan 8 years ago recounting their dark childhood memories.
Annamária Garay also received a special prize from Yettel, which has sponsored the award program for many years. The film titled "Six Months Ago they Attended School in Ukraine, Now They Have Arrived for Their First End-of-school-year Ceremony in Hungary", tells the story of children from inner Ukraine who have experienced things no minor should ever have to go through. Their future is unpredictable, but everyone around them is working to ease their pain of war, at least a little.
This year, the telecom operator decided to support the cause highlighted by the winning entry, in addition to recognising the creator. Yettel's aim is to find ways to make a film have a long-term impact and inspire others to support the irreplaceable work of journalists.
This year's winner in the photo category is István Huszti, photojournalist of Telex, who also faithfully depicts the destruction and pain of the Ukrainian-Russian war in his award-winning images.
The awards were presented by the jury members including Kossuth and Balázs Béla Award-winning photographer Éva Keleti, journalists János Horvát and Balázs Weyer, Antónia Mészáros, Executive Director of UNICEF Hungary, as well as Hajnalka Hégető, member of the Board of Trustees of the Hégető Honorka Foundation.
 
The winning short films are available at https://rtl.hu/hegetohonorka
 
Sponsors of the Hégető Honorka Award: RTL, Yettel Hungary and the Hégető family.
 
The Hégető Honorka Award plaque was designed by artist Erzsébet Szilágyi.