The complex program supporting the innovation efforts outlined in the new National Curriculum aims to improve the practical application of primary and secondary school teachers' digital content development and design skills in a two-stage system. The first stage is a course to be completed at Yettel HiperSuli teaching sites followed by a higher-level vocational training program at the University of Debrecen.
The accredited teacher training of 2×30 hours including mentoring has been compiled by Mária Csernoch, Associate Professor of the University of Debrecen. It aims to enhance teachers' digital competencies and prepare them for teaching using digital devices to give them a firm foundation to apply for the university's higher-level vocational training program. Teachers not yet involved in Yettel's HiperSuli program can also apply.
Upon signing their partnership agreement, the parties held an event to share best practices at Diószegi Kis István Reformed Bilingual Primary School in Berettyóújfalu where visitors were introduced to new teaching methods for digital spelling, digital literature and Excel programming using chemical symbols.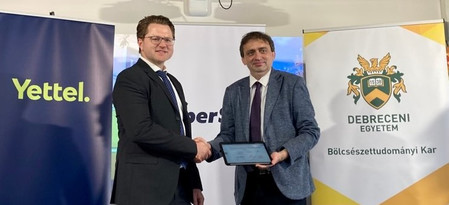 "We opened a new chapter in the history of our digital education program HiperSuli. Until now, we have focused mostly on raising the awareness of teachers in the lower and higher grades of primary schools and helping them acquire new teaching methodologies. Our partnership with the University of Debrecen now gives us the opportunity to directly contribute to the education of future teachers, taking the digital literacy of young people to the next level," said Zoltán Dávid, Chief Strategy Officer of Yettel after signing the agreement.
"It is an honour for the University of Debrecen to partner with one of Hungary's leading telecommunications operators in expanding its education offering. Our partnership enables teachers with a non-IT degree to acquire advanced skills to reform the teaching methodologies of their subjects as part of an accredited higher-level vocational training program offered by the university", added Péter Csatár, Deputy Dean for Strategy and Finance at the Faculty of Arts of the Debrecen University.
Left to right: Zoltán Dávid, Chief Strategy Officer (Yettel) and Dr. Róbert Keményfi Dean and Professor (University of Debrecen)