Telenor, the Hungarian Ornithological and Nature Conservation Society (MME) and Cellect Hungary joined forces to raise awareness of protecting barn swallows (Hirundo rustica) and house martins (Delichon urbicum). These migratory birds return to the same nest next spring, but it is often destroyed in the meantime. To stop the reduction of the swallow population, it is vital to maintain and protect nests which requires raising public awareness of the issue.
To take this message to as many people as possible, Telenor, Cellect and MME decided to raise public awareness of protecting nests with swallow-themed environmentally friendly mobile phone cases. As a first step, the partners announced an open art competition for the graphic design. Until the end of September, 634 pieces of artwork were submitted, largely exceeding any preliminary expectations. The youngest applicant was 5 years old, while the oldest one was 65.
The submitted designs were evaluated by graphic and product designer Panni Czikkely, creator of the mobile phone case featuring The Bird of the Year, Zoltán Orbán, spokesperson of MME, Bertold Fejes, Head of Sales and Marketing at Cellect Hungary and Attila Mészáros, Corporate Communications Director of Telenor Hungary. Mihály Kövesdi (Újszász) was announced as the winner followed by Éva Molnár (Budapest) and Mirtill Südi (Lovasberény) as joint second runners up.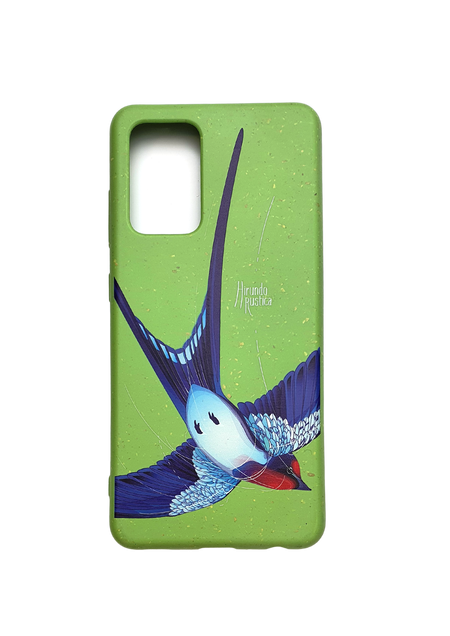 "The winning design was based on a powerful, awe-inspiring, masterfully detailed yet streamlined concept. I could immediately visualize it on a phone case. The swallow in the drawing is so dynamic and impulsive that you expect it to go live and fly away, sending the message that it is an autonomous bird you cannot control, but still you can do a lot to save it", said Panni Czikkely evaluating the winning design.
The winning design will be used to create a limited-edition plant-based, 100% biodegradable mobile phone case. The compostable cases will educate even more people on the issues affecting barn swallows and house martins. The creators of the three best graphic designs will be rewarded with high-value mobile phones.
"Being a graphic designer and an amateur birdwatcher, I was immediately intrigued by the competition drawing attention to these wonderful birds. I've been fond of swallows since I was a child, I've always been impressed by their skilfulness, character and graceful flight. I wanted my drawing to reflect this moment: the playfulness and dynamism of swallows in flight", said winner of the competition Mihály Kövesdi.
Although the competition was initially announced for applicants older than 16, several school communities including entire school classes and kindergarten groups decided to join. In response to the great interest, the jury presented 3 special prizes to Panni Miski, Regina Horsa and Bence Miskolczi. 11-year-old Bence suffers in chronic autoimmune arthritis which prevented him from holding a pencil for some time. Currently, he doesn't show any symptoms and found great joy in artistic creation for the swallow-themed design competition.
The environmentally friendly mobile phone cases featuring a swallow design and compatible with select Apple and Samsung handsets will be available in Telenor's webshop from mid-November. HUF 500 of the purchase price of each case sold will be donated to MME's monitoring and habitat protection programmes.
To view the winning designs please visit: https://www.telenor.hu/veddafecsket
What makes a phone case environmentally friendly?
A 100% plant-based (biopolymer and flax fibre) mobile phone case is an ideal choice for environmentally conscious customers. The product degrades in 6 to 24 months when stored in a compostable environment. It doesn't include any chemical colouring and it is sold in recycled packaging.