The increasing annual trend of mobile internet usage is observed both in Hungary and among Hungarians travelling abroad. Based on Yettel's latest network report, while domestic data traffic increased by 1.5 times (51%) between April 2022 and April 2023, Yettel customers' mobile internet usage abroad grew even more (75%) over the same period.
Background
Unsurprisingly, the peak season for roaming is July and August. These two months have the highest traffic in terms of both international calls and data traffic during the year. Looking back over recent years, while the travel restrictions due to the coronavirus pandemic reduced roaming traffic in 2020, the situation had levelled off by 2021, with Yettel seeing a surge of 56% in its customers' data traffic abroad in July and August last year compared to 2021.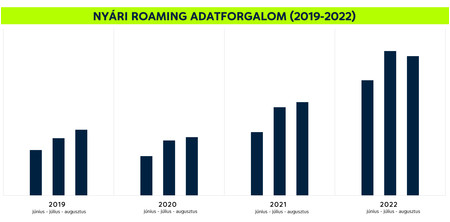 Based on Yettel's data, growth is set to continue this year, with roaming data traffic 75% higher in April this year than last April and 3% higher than last year's peak in July. This means that we can expect a new roaming record this summer.
Comparing mobile internet usage in different roaming zones reflects travel patterns. While roaming data traffic in roaming tariff zone 1, which includes the EU, tends to be higher in July and August than in the rest of the year, roaming tariff zones 2 and 3, which include more distant countries, show more variance, with the highest usage in June and autumn (October and November) last year.
Call trends are slightly different from data trends. After a dip in 2020 due to the coronavirus pandemic, in July 2022, the peak month of 2022, Yettel customers had slightly fewer roaming call minutes than in July 2019, the last summer before the pandemic. In April this year, the number of call minutes was only 6% higher than in April last year.
Broken down by country, Romania had the highest data traffic from Yettel customers last year, followed by the UK and Germany, with the top 3 data-using countries accounting for 40% of total roaming data traffic. Romania also topped the list for incoming roaming calls, making a quarter of all calls, almost double the volume and three times the duration of calls of runner-up Slovakia.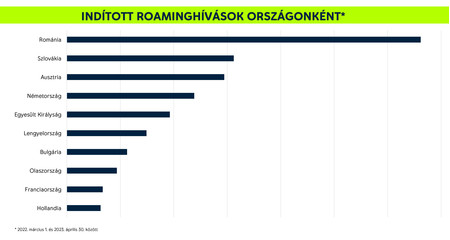 New handset and EU roaming for your holiday
Before you travel, it's important to know that in EU roaming tariff zone 1, you can use your subscription under the same conditions as in Hungary by default, which means you pay no roaming charges except in some special cases. Yettel's Prime+ tariffs can help eliminate roaming data worries when travelling in the EU. With these plans, you can use 50 GB, 100 GB or unlimited data from your unlimited domestic data allowance in EU roaming tariff zone 1, depending on your plan. For other plans and tariff zones, you can buy roaming data tickets. These allow you to use your mobile phone abroad without worrying about the cost.
You can even hit the road with a new smartphone if you buy one of Yettel's range of discounted devices. Xiaomi Redmi 12C, with its long battery life, is now available for HUF 0 with a Yettel Prime+ tariff plan. Customers opting for the Yettel Prime Plus+ plan can get a HONOR X8a for HUF 0. The latter's 100MP main camera makes ultra-clear images, automatically recognises different scenes and helps you capture the moments of your holiday.
These offers are valid until 31 May or while stocks last for customers who sign a 2-year contract and choose the e-Komfort plan.
More information: www.yettel.hu