As part of the strategic partnership, Yettel will establish a mobile network using 5G mobile technology at the campus of Óbuda University in Bécsi út, and it will provide SIM cards and terminal equipment free of charge for testing purposes.
Yettel also participates in the development of the curriculum of a telecommunications-themed subject introduced at the John von Neumann Faculty of IT's Institute of Biomatics and Applied Artificial Intelligence. The subject titled "Introduction to 5G technology" was first offered to students in the current academic year of 2022/2023 and it is already being studied by nearly fifty MSc students of computer science and engineering. The course provides students with information on the telecom industry, the domestic market, spectrum use and management, energy efficiency investments, future 5G applications, IoT technology and private networks. Students can acquire precise theoretical knowledge and practical hands-on skills through real-life use cases.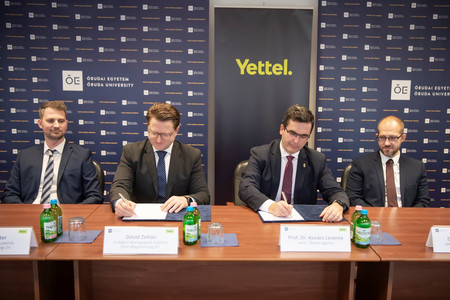 Under the strategic agreement, the university and Yettel will also work together to develop a recruitment and internship program.
"Óbuda University has always sought to develop its industrial relations in order to enable students to deepen both their theoretical knowledge and practical skills during their studies", said Prof. Dr. Levente Kovács. "The graduates of Óbuda University have excellent job opportunities also because they participate in the institution's practice-oriented training. The agreement we have just concluded reinforces this ambition", he added.
"So far, we have seen that students are very interested in the potentials of mobile technology. We are confident that this agreement will enable us to contribute to the university's development program by deploying a 5G mobile network that will help explore the potentials of 5G and recognise the practical features and benefits of the new technology. We hope that this will promote the university's professional growth and accelerate their development efforts," said Zoltán Dávid, Yettel's Chief Strategic Officer.