In the first phase of the initiative, volunteers have the opportunity to farm in 20 raised beds covering almost 100 square metres. The MyFarm Harta team, known for their community farms, helped Yettel professionally develop sustainable gardening. The two organisations have worked together before, with Yettel taking part in the digitisation of the chemical-free fruit and vegetable community farms coordinated by MyFarm, building an online community CCTV system and developing a mobile app for vegetable delivery. The aim of the current cooperation is to use the facilities of the operator's headquarters to produce food for employees in the most natural and self-sufficient way possible, without using any chemicals.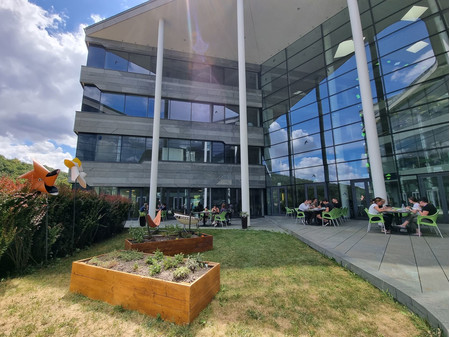 Half of the vegetables produced here can be used by the volunteer farmers, while the other half is sold internally in a "charity market", that is, it is made available to all colleagues as a takeaway commodity without any set price, in exchange for a donation of any amount. The company transfers the amount raised to local charities.
 
The community garden is watered from a 140-metre deep on-site well controlled by a Gardena irrigation system that can be managed from a smartphone. It can even be set to adjust watering schedule based on local weather conditions. In addition to the raised beds used to grow vegetables, the community garden also includes two raised beds for herbs, located close to the HQ's canteen, so that anyone can season their lunch with fresh herbs.
With this initiative, Yettel also aims to set an example for companies, even those with small gardens or terraces and balconies, that would like to support their employees' healthy diet and facilitate sustainable, chemical-free gardening, which, in this form, also provides an excellent recreational activity during office work typically requiring users to sit in front of their computers.
Eco-community garden next to an eco-friendly headquarters
When it was opened in 2009, the Yettel headquarters was one of the largest environmentally conscious investments in Central Europe, and has remained one of the most environmentally friendly offices in the country to date. The building occupies only 7.55% of the company's eight hectare plot, so there is plenty of space for a community garden, in addition to the recreational facilities around the building including a football pitch, a beach volleyball court, a barbecue area and outdoor work stations.
In response to the hectic workload of the telecom industry, Yettel has always made an effort to help its employees find a healthy work-life balance using a variety of tools, which is why the company was awarded a special prize for being the most attractive employer in the Randstad Employer Brand Research survey.
The Yettel community garden grows a symbiotic mix of tomatoes, courgettes, sweet and hot peppers, cucumbers, parsley, basil, beetroot, green beans, carrots and New Zealand spinach, while the herb boxes contain mint, rosemary, thyme, marjoram, coriander and sage.