People chat, join video meetings, send e-mails, run errands online, read articles, watch films and stream content. This means that you live a growing portion of your digital lives and spend more and more time on your mobile phone. Many people keep using their smartphones even while watching television. Based on a study published by Bell Research*, 56% of people using several devices simultaneously consider their smartphone as their second screen. In the same way as TV sets keep growing bigger, the size of smartphone displays has also increased steadily in recent years. 
Telenor's sales data indicate that battery capacity, camera capabilities, processor and display features are the key factors considered by users when selecting a new mobile phone. In the past 5 years, there has been a clear trend of consumers opting for bigger screens to enjoy a better experience. The display size of popular smartphones has kept growing which is also reflected by sales data. 
The growth of average display sizes is correlated with the size of the most popular smartphone models. Between 2015 and 2019, the most sought-after mobile phones sold by Telenor all had a display size of 4.5 inches or larger and their average size has also grown from year to year.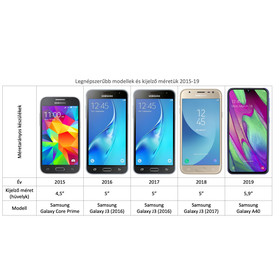 The most popular smartphone models and their display sizes in a breakdown by year (source: Telenor Hungary) 
Interestingly, the overall size of mobile phones grew to a smaller degree than display size due to the disappearance of front-side buttons and the use of thinner bezels.
 TOP 5 smartphones grew even bigger 
The change is even more spectacular for the 5 most popular models of the years 2015 to 2019. Based on Telenor's data, sales were dominated by handsets with a 5-inch or larger display, while the average size of the TOP 5 smartphones sold in 2019 reached 6 inches. 
Average display size of TOP 5 smartphones between 2015 and 2019 (source: Telenor Hungary) 
According to the latest sales statistics, the trend continues. In Q1 of 2020, Telenor sold handsets with display sizes between 5.9 and 6.3 inches in the largest number. The most popular models included Samsung Galaxy A40 (5.9 inches) and Xiaomi Redmi Note 8T (6.3 inches).  
*Hungarian Infocommunications Report, 2019, Bell Research